Enroll in Gamblers Bonus Today, It's Fast, Easy & Free!
Every time you log in to your account, be sure to check for the gold Gamblers Bonus icon! When you see the icon, click on the link to view the details of the WEB EXCLUSIVE PROMOTION. Never miss a promotion and be sure to check back often, there will be many.
Sign in above and look for the Gold GB icon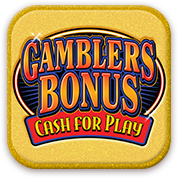 Check back often to receive
Web Exclusive
Promotions!
Kerry won $28,400 on 11/26
Robert won $28,000 on 11/21
Sanford won $20,025 on 11/23
Robbin won $20,000 on 11/22
Richard won $20,000 on 11/22
Robert won $20,000 on 11/21
Morgan won $19,800 on 11/20
Rickey won $17,500 on 11/23
Stanley won $16,000 on 11/26
Robbin won $16,000 on 11/22
Sonya won $12,500 on 11/23
Emily won $12,500 on 11/23
Sanford won $12,000 on 11/25
Misty won $11,137.50 on 11/23
Ashley won $10,116.25 on 11/24
Selina won $10,005 on 11/20
Robert won $10,000 on 11/22
Rustam won $10,000 on 11/20
Amy won $9,320 on 11/25
Mark won $8,781.25 on 11/22
Patrick won $8,750 on 11/24
Scott won $8.090 on 11/22
Derek won $8,000 on 11/20
Roger won $8,000 on 11/20
Ian won $8,000 on 11/25
Angie won $8,000 on 11/20
Kenneth won $8,000 on 11/20
Mara won $8,000 on 11/25
Peter won $8,000 on 11/21
Liana won $8,000 on 11/21
Ahmad won $8,000 on 11/26
Joie won $8,000 on 11/20
Lahaina won $8,000 on 11/26
Robert won $8,000 on 11/26
Paul won $8,000 on 11/20
Jesus won $8,000 on 11/21
Glenn won $8,000 on 11/20
Robbin won $8,000 on 11/22
Joe won $8,000 on 11/22
Paul won $8,000 on 11/24
Peggy won $8,000 on 11/21